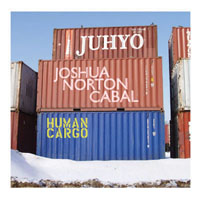 New noise release, five tracks from Minneapolis duo Juhyo and four from yours truly, out now on Housepig and Hear More.
Blockade and Juhyo have played together a few times now (twice i think) and each time we've been blown away by their meticulous attention to detail; this is not two dudes randomly turning on and off DOD death metal pedals and skronking the controls on their Behringer mixers as fast as they can.
Juhyo's sound on this release at times sounds like being slowly marched out of your house and into custody. Haunting stuff.
The theme for the release was loosely human trafficking. Juhyo probably get this across better than i managed. Though i did stand outside my local cash-for-handjobs-from-Eastern-Europeans-parlour and recorded the sounds of the night whilst out walking the dog for one track.
My material on the split presents the penultimate release in this style before i had a minor shift. The Inner Light CD that i'm going to go on good faith and hope is either currently at the plant or about to be sent to the plant will be the final release of mine in this style. The soon to be released split tape with Disgust on Small Doses and Between Two Fires C20 on Swim Harder are the first of the new approach (hint, it has vocals and bass on as well as the usual harsh noise and reappropriated enviromental recordings, pretty ground breaking stuff huh?).
Some of my side has me hitting the harsh noise like i'm 21 again and some is an altogether slower listen. I did a lot of field recordings and stealing of other peoples material for this one. Thrill to the sound of Nekrasov's first born, the soundtracks of Friday the 13th and Blade Runner, endless recordings of my dog, the above mentioned "massage" parlour, going to Blockade practice, being at Blockade practice, coming home from Blockade practice etc et fucking cetera.
Housepig just released the new Bastard Noise CD, so if you're going to buy that (and you probably should unless you're buying the LP version), pick this one up as well if it floats yer boat. Also much recommended from Housepig are the following:
Vennt - Vennt
Kelly Churko - The Confusion
Wilt - Scarecrow (in fact, if you're not familiar with Wilt, buy everything you can by them, some of the most interesting sounds of the last decade are coming from those two dudes)
and of the many Bastard Noise releases Bill's done my vote goes to the Brainstorming II collaboration with Christian Renou as being particularly worth investigating.
Hear More also released the excellent Pig Heart Transplant/ Juhyo split 7".
In other news this year i figured out how to go to MDF and not lose my mind. Autopsy and Portal were predictable highlights by a country mile and Watain, who i've always loved everything about except for their music were a revelation as well and the only band really put the Death into MDF.
Playlist:
Bizarre Uproar - Purity
Nominon - Monumentomb (unbelievably good, already my tip for best death metal album of the year)
Infinitum Obscure - Sub Atris Caelis
Mika Vainio - Black Telephone of Matter
Defeatist - Sixth Extinction